Easy Touring is run by their owners Wolfgang Schulz and Corinne Brient. Whilst, neither originate from the local area – Corinne is French and Wolfgang is German – they have lived in Tuscany for many years and amassed a wealth of knowledge and experience which now contributes greatly to the excellent standard and comfortable atmosphere of service they provide.
They both gratefully and graciously welcome all new travellers to beautiful Tuscany and look forward to being their guides, no matter how short the encounter. The journey is an open slate, full of stories to unfold, of lives to tell and exciting new adventures and discoveries.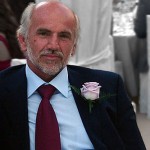 «Wolfgang will meet your demands and drive you safely to your destination»
Originally from Hannover, he studied at the University of Bremen, Germany and specialized in administrative law. To finance his studies at that time, he worked as a taxi-driver. After moving to Italy some 20 years ago, he rekindled his passion for this former activity  and chose to take it to a new level. He still thoroughly enjoys interacting with people from all different horizons but now he can also share his knowledge and love of this beautiful land.
In his spare time, he tends to another passion in life, namely making his own organic white and red wine and his own organic olive oil that he grows on several acres surrounding their home in the hills of Lucca.
He speaks fluent English, German and Italian.
Contact Wolfgang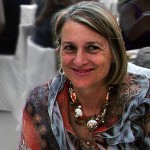 «Corinne tends to the guests and will stay in touch with you before and during your trip»
Of French nationality, she was born in Senegal and spent almost 25 years of her life living in Africa which has yielded great respect for cultural diversity, people and their values. After graduating from Strasbourg University (M.A in Linguistics and Philosophy), she worked as a free-lance translator and lived in England (GB), in California (USA) and Germany where she also trained and worked for 6 years as a licensed guide for the city of Karlsruhe. She finally settled down in Lucca, feeling that she was "home" at last.  Communication is her world, translation of ideas, of stories, too. She continues to work as a translator and as an authorized official local guide for Tuscany. She will gladly be your guide in Pisa but also Volterra or Lucca.
She speaks fluent French, English, German, Italian and some Chinese (she spent some time at Cheng Gong Da Xue in Tainan – Taiwan). The book she wrote about her life there called "Taiwan Blues" is available at www.publibook.com.
Contact Corinne